Currently in Phnom Penh, they are celebrating the "boat festival" which for some reason westerners have consistently called the "water festival".  I don't know why.  Anyway, this festival is when Cambodians celebrate the end of the rainy season.  They celebrate by racing long dragon boats which hold up to 80 people in a national competition.   This year, they will still race but the rain has not stopped yet!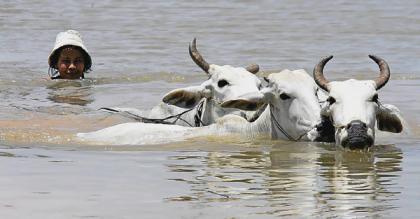 Well, unfortunately another Typhoon is bearing down on them. This one is Typhoon Mirinae.  The country has still not recovered from Typhoon Ketsana and the NGO Oxfam reports, "The damage from Typhoon Ketsana runs to around 40 million U.S. dollars in Cambodia, according to the Ministry of Economy and Finance. The storm, which killed at least 30 people, affected about 6,000 families and destroyed thousands of hectares of rice fields, and local infrastructure such as irrigation systems, roads, schools and houses."
One picture I shot shows how bad this year's rain has been.  This is a restaurant/ bar which has a waterfall coming out of the shop.  Talk about cleaning house!  Pray for Cambodia, there is just way too much water for the country to handle right now.