One of my favorite things to do is get my car washed after a long trip.  Usually I am off road and so I really get the mud caked into every part of my car.  I love going to the car wash and getting such good service.  The owner usually offers me a seat in an air-conditioned lounge.  He regularly gives me a coke or a bottle of water to sip on.  Some days he will offer me my favorite drink: Green Tea with Pomegranate juice.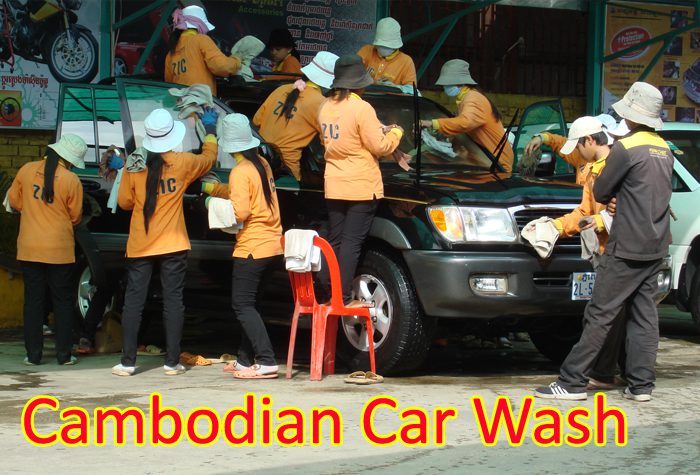 Outside dozens of his workers are scrubbing away.  Climbing all over the car with high pressure hoses and rubbing down all the parts.  They spend a good deal of time on the under-carriage and will even grease it for me.  All I do is still and blog while they work.  After they wash it, the pull the car into the dry zone where twenty to thirty girls are waiting to dry the entire car by hand.  It takes them a total of ten minutes to wipe down every inch of the car, including the engine parts.
While everything is getting dried, the vacuum and polish crew go to work inside the car.  They clean off every speck of dirt, remove every fleck of garbage and polish the leather seats.   It comes out smelling like a new car every time.   Another guy is checking all the engine fluids and will top anything up that needs to be topped up.   If it is time to change my oil, they can do that too, in ten minutes.  They always clean out the air filters and unlike those "Jiffy Lube" guys, don't recommend to every single woman to change the air filter once a week.  They just clean it out and put it back.  They also shine all the wheels with armor-all to make it look sharp.
Once I have had my fill of Green Tea with Pomegranate I return to my spotless clean car where they are waiting by the door with my car key in their open hand.  I get in, where they usually hand me another bottle of water for drive back to the house.  Total time: thirty minutes of pure luxury.  I am happy, my car is happy. I then hand them the payment: $3.00.  I love Cambodia!