For many years Malaysia has been a favorite destination of our family. It is the people of Malaysia, our great friends, which make it so wonderful.  Generally, every Malaysia is friendly, generous and willing to take any amount of time to build a stronger friendship.  Though it is a modern urban country, they have not forgotten the importance of relationships with people.  It is a beautiful country with a beautiful capital city with the pictorial twin towers (formerly the world's tallest buildings) as its showcase.  It has amazing beaches, great shopping and incredible food.  Food is the cornerstone of Malaysian hospitality. Every day I am there, I can count between five and six meals per day, every day!  Let me describe what I ate: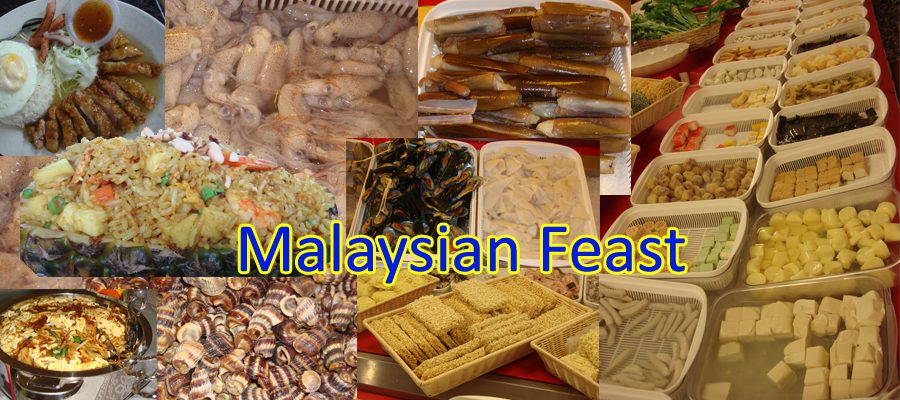 Breakfast   8:00 AM
Coffee is a must.  Malaysia has one of my favorite coffees which is called Ipoh white coffee.  Its roasted beans from the northern town of Ipoh have a fantastic flavor.  If you ever come to Malaysia, you have to try Ipoh white coffee.  Mee Char (Fried Noodles) is a common Chinese/Malay breakfast.  Many times they will also have Kueteau (thin noodles in broth with pork balls and such).  The coffee is perfect with its Ipoh roasted beans.  They also have the 'long Chinese doughnut' (cha kwie).  It is a light oily doughnut like bread which can be dipped into the coffee and eaten.  It is pretty good.  If you dump a bunch of sugar on it, it tastes just like a sugar doughnut at Krispy Kreme.
Brunch  10:30 AM
More coffee and curry puffs.  Yumm!  At this point, your stomach is already full, but the temptation of a Malaysian curry puff is almost too much to bear!  Then after one curry puffs comes another and another.  Curry puffs are my Achilles heal.  They steaming potatoes, egg and curry paste just call to me.  The taste is addictive.  Once you have one, a real good one, you can never quit.  Oh, my mouth is watering as I write about this delicacy.  I know that this is only the second of six meals, so I should pace myself, but I just can't resist the curry puff!
Lunch 12:30 PM
Now I am getting bloated, but still there is so much to try.  For lunch we are off to a hawker center where it is kind of like fifty restaurants in one! They have all kinds of food, mostly Chinese, but will have many different varieties of Chinese food to chose from.  Usually, our Malaysian friends are such good hosts, they won't let you order, but they will order a bunch of food for you.  I love hawker centers though because you can pick a couple of dishes for little money.   For lunch I had Thai style pineapple fried rice (served right inside the pineapple).  They called it a "recycled dish" being that it wasn't actually served in a dish, but in a pineapple shell.  I also ordered lemon chicken.  It was chicken and rice served on a tangy lemon sauce.  Amazing flavor.  Now I am really stuffed, but with such variety of food, it was making me more curious to try more different kinds of food.
Tea Break  3:30 PM
This former British colony still has many residual British cultural practices left over, the most pronounced being a daily tea break.  Of course you have to have tea, and the British drink tea with milk, so the Malaysians came up with "tae tarik" (pulling tea).  Tae Tarik is a national tea which is mixed in dramatic style.  It is a blending of milk and tea, but the blending is done in a large pouring motion.  Of course, no tea is good by itself so it must be enjoyed with biscuits.  British biscuits are simply American cookies.  Shortbread is common and delicious.  They will also have a few other snack dishes also which include sticky rice wrapped up in banana leaves, or other kinds of rice and coconut milk dishes.  They are all usually light on the stomach, so you can keep throwing them down and eating more!  It all tastes so good.
Dinner   6:30 PM
Garlic and cheese nan (bread) cooked right in front of you.  Indian flavor and fantastic taste. To wash it all down a mango special drink.  It is a mango shake mixed with a few other fruits like lychee.  Yummy.  They also ordered three or four other dishes, but I was focused on the nan.  It is a rare treat for me to eat this wonderful Indian bread.   They nan comes with three kinds of bread dipping sauces.  One is fish curry, my favorite, but a second is a little strange.  It is sweetened condensed milk.  The third is the ever present dahl which is always present with Indian dishes.  The dahl is a bean dish which can be eaten with bread or rice.  Indian food is one of my favorites, because even though most of it is vegetarian, it has so much flavor and spice, you don't miss the meat.  You would think that I would be bursting at the seams, but they space the food out just enough so that your stomach can rest between feedings!
Supper  11:30 PM
This is the final and sometimes biggest meal of the night. Tonight it is a steaming clay pot buffet.  Every kind of seafood, clams, mussels, and leafy vegetable you can imagine.  They also added Australian beef, thinly sliced that you can cook into your pot as well.  You pick yourself and then cook it in your choice of plain broth or tom yam flavored broth right at your own table.  Eat and eat and eat.  I like noodles, so I had added noodles (one of six different kinds) to the broth, but my Malaysian friends quickly scolded me.  They said that noodles filled you up to quickly, so they recommended me not eating any noodles or rice and focus on the seafood and other goodies (the expensive stuff)!
Malaysia is not really my favorite country in the region just because of the food.  In Malaysia you never eat alone.  In fact, at almost every meal, we have to connect many tables together so that all of us can sit together.  Food is fun, but it is far more fun to be with friends.  You see, Malaysians understand that people are most important.  Food is just an excuse to spend more time with friends.   Malaysian hospitality, it is second to none.  Great food and greater friends!