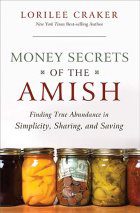 "Money Secrets of the Amish" (Finding True Abundance in Simplicity, Sharing, and Saving" by Lorilee Craker.  Thomas Nelson: Nashville. 2011
Review by Steve Hyde
About a month ago I purposefully made a trip to an Amish area of Northern Iowa.  As I was there I was pondering how the Amish did business and why it seemed to work well for them.  I was excited to see Lorilee Craker had written a book on the topic I was curious about, so I approached this book with great excitement and expectation.  The book addressed many topics dealing with how the Amish do business and how they perceive money and wealth.  A cornerstone seems to be "being taught to love work", one Amish farmer named Eli said. Others talked about how to save money you need to "scrape the bottom of the barrel!" The Amish reuse and recycle everything.
In regards to money, they were clear on avoiding debt. Equally, they stressed saving money at all times so that you can accomplish your dreams and it will cushion you for rainy days.  You must learn to say "no" to many items so that you can save to accomplish your bigger dreams.
Craker offers practical advice for the reader on how to save money. For a simple and practical book on how to save money in a bad economy this is a good one to read.  I wish that she would have linked the traditions of the Amish to the main source of their inspiration, the Bible and their Christian lifestyle.  She didn't . It is extremely practical for those who want to save money and learn how the Amish save money, but I think it didn't go far enough to show the true source of many of their traditions in saving money, the Bible itself.
The Amish are also known to be loyal to their community and constantly help each other out.  Craker wrote from an individualistic perspective and though she mentioned the Amish in community, she did not mention how the community affects or are involved in their financial living.  I would be curious to find out more about the communities role in helping with each other's needs.
Furthermore, while she mentioned character throughout the book, it was not highlighted how character is an essential aspect of their lives and financial success.  Work ethic, humility, simplicity, avoiding pride and ostentatious lifestyles, integrity, discipline and righteousness are godly characteristics which have impacted their whole life.  I believe this book only skims the surface of the success of the Amish to flourish at a time when most Americans are finding the economic recession arduous. For the casual reader it is a good book to read, but for someone who is searching for deeper insight into the Amish secrets of money, you will likely be disappointed.
Disclosure of Material Connection: I received this book free from the publisher through the BookSneeze®.com <http://BookSneeze®.com> book review bloggers program. I was not required to write a positive review. The opinions I have expressed are my own. I am disclosing this in accordance with the Federal Trade Commission's 16 CFR, Part 255.