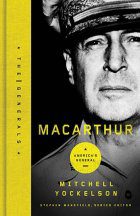 "MacArthur: Defiant Soldier" by Mitchell Yockelson. Tomas Nelson: Nashville. 2011
Review by Steve Hyde
I have previously read many books on General Douglas MacArthur, so I approached this book looking for a strong historical basis, but what new insights it offered into the life of this great American hero.  I was pleased what I found!  Yockelson has presented a stunning work. It is probably the best overall summary of the life of General MacArthur I have ever read.
The book covers his whole life, and how he followed after his famous father and grandfather.  It follows him through numerous battles and wars across the world.  It not only presents the historical side of General MacArthur but reveals how his personal life and family experience shaped his decisions and his life.  From a young age in the Philippines to commanding the Allied forces to conquer the Japanese, his promise of "I shall return" was fulfilled.  This stunning story of the life of General MacArthur should be read by everyone, especially the younger generation for fear they forget the great heroes of the past.
As a youngster I grew up in Manila, Philippines. Schools, roads and monuments are dedicated to General MacArthur across this nation. Across Asia, his name still recalls great respect. Most scholars do little justice to the background that MacArthur and his family had in Asia and their familiarity with the Philippines and Japan specifically.  They tend to focus on important battles and the victory over the Japanese, but this book reveals the great love of General MacArthur for the Asians, and specifically his great love for the Filipino.  Yockelson highlights this past relationship well and critical decisions in his life.  His military command demonstrated his idealistic and confident behavior, but also highlights his amazing leadership abilities and the respect that the whole nation had for him. It portrays him as a true American hero and adequately reveals who he really was.  This was one of the best historical books I have ever read.
    Disclosure of Material Connection: I received this book free from the publisher through the BookSneeze®.com <http://BookSneeze®.com> book review bloggers program. I was not required to write a positive review. The opinions I have expressed are my own. I am disclosing this in accordance with the Federal Trade Commission's 16 CFR, Part 255.