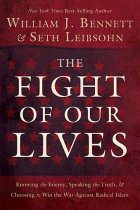 "The Fight of Our Lives" (Knowing the Enemy, Speaking the Truth and Choosing to Win the War Against Radical Islam) by William J. Bennett and Seth Leibsohn.  Thomas Nelson. 2011.
Review by Steve Hyde
The premise of the book is that the current policy of appeasing Muslims is not doing anything to abate the aggression of Islam.  So, we need to re-consider policies and the language in which we refer to the enemies of the United States.  In the introduction of the book he asserts that terrorism is happening so fast that he is unable to keep up with it before the printing of the book and that America's response has been inadequate.  That may be true, but after a few months after publishing the book Osama Bin Laden is now dead too.
To me the book, while full of facts, would have been better a group of blog postings than a book which are highlighted immediately.  In the 21st century of rapid news cycles, the story of the "Fort Hood Shooter" hung around for less than a week.  It's old news.   He is addressing "media" and "the government administration" in print form.  Yet, who will likely read this book?  It is those who already agree that the media and government purposely refer to "terrorism" as not Islamic for some reason or other.  It is a book which is "preaching to the choir".
The authors state, "we no longer speak or teach the language of such moral absolutism (such exquisite extremism) with the moral conviction that inspires."  They are concerned that we are losing our history, our heritage and our rights by the words we use.  They offer only a solution of "Let us avoid that suicide, let us call good and evil by their proper names. Let us know the enemy as the enemy and not hide behind sophisticated philosophies and synonyms and pseudonyms." I think they are calling for freedom of speech!
This book was not really what I expected.  Maybe I was expecting a solution to the war on terror.  There is not.  Maybe I was expecting a clear plan of action.  There is not.  It is full of data and historical facts which some may find fascinating.  However, mostly it was disappointing to me.   I don't like books which hound a point just to state the obvious.  Islamic terrorism is bad.  There I said it!  So, did that change anything.  Nope.  Will you learn anything from this book?  Unfortunately, apart from a modern history lesson on a few terrorist attacks, not much.
Unfortunately, I don't think I would recommend this book.  I can't imagine any of my friend reading it either.  Sorry.  I guess I was expecting more by the grand title "The Fight of our Lives"!
    Disclosure of Material Connection: I received this book free from the publisher through the BookSneeze®.com <http://BookSneeze®.com> book review bloggers program for my honest evaluation and review.