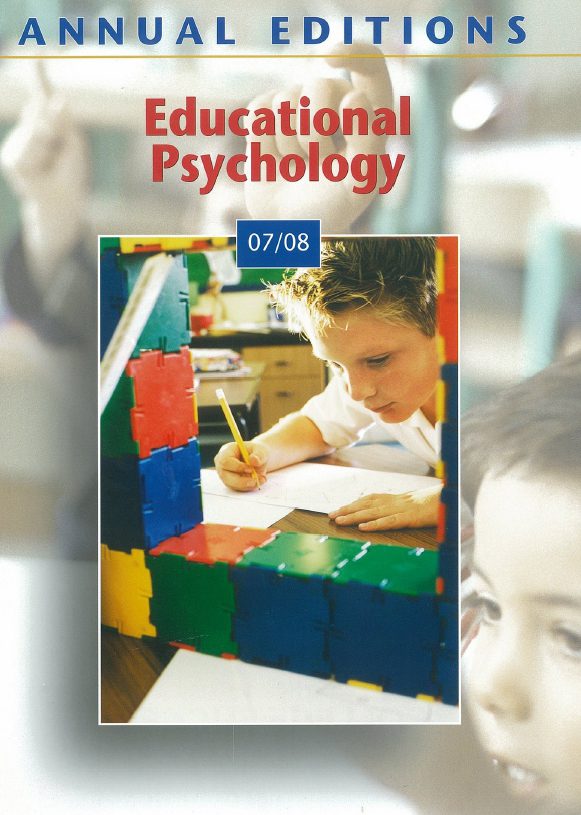 "Educational Psychology" 22nd edition. by Kathleen M. Cauley, Pannozzo, Gina eds. McGraw-Hill, Contemporary Learning Series: Dubuque, IA. 2008
Review by Steve Hyde
This is a "real book", not like the simple books of today that you can read in half a day.  This one is 242 pages of very small print.  Each page was written by academic scholars and practitioners with letters behind their names.  I've been working on it for more than six months!
This textbook is subdivided well into parts which are easily learnable. It provides an excellent overview of the Psychology of Education from a modern perspective.  Not only does the material cover topics on curriculum, but also on teaching methodology which is customized to the learning needs of the students.  So much of my previous understanding has been related to preparing lessons where the content of the teaching was my main focus.  I would design and teach materials which are according to needed topics.  This textbook helps me to view the development of lessons in regard to the learner; adapting the content to allow the learner to be able to understand the lesson fully. Each chapter is very concise and clear in the key elements which need to be considered in each topic related to educational psychology.
While much of the focus on Eastern based education is focused on rote memorization, this puts most of the responsibility of learning on the student.  This book on Educational Psychology really focuses on the responsibility of the teacher to customize and prepare the teaching for the learners.  This allows for much more effective training.  The third unit covers many individual needs of learners and perspectives in which the educator needs to consider.  These include those with special learning needs, gifted students, cultural differences of learners and gender differences.  While all four groups are crucial to consider for the sake of learners, the section on cultural differences is the most interesting to me.  Today, we live in a world which is no longer isolated and compartmentalized by single cultures.  The whole world is extremely diverse and it is reflected in groups of learners being equally culturally diverse, no matter if they be a church or a school setting.  In nearly any training or educational settings in the world, there would be multiple language and cultural groups present.  Today, we truly live in a pluralistic society.  This requires that educational psychology reflect the educational environment.  Teaching in consideration to culture is very significant.  Obviously an educator cannot learn about every culture, but an educator can be a learner about any culture and be sensitive to cultural distinctives.  More than being "politically correct" it is essential that educators discover ways of learning which are more effective among other cultural learners.  These lessons are especially helpful for me being both an educator and a learner in a cross-cultural environment; but even more to help my trainers to find more culturally relevant and effective methods for educating others.
Another significant unit for me was unit number five which included classroom management.  This section gives very good observations and ideas for maintain a good environment for learning.  It is especially helpful because it includes the issue of a student's motivation for learning. It also talks about behavior of students and give basic guidelines for dealing with inappropriate behavior such a bullying. While this is not really relevant for our pastoral training, this could be an issue at our learning centers for children in Cambodia.
The final unit is about assessment which primarily focuses on taking of exams and what kinds of exams are appropriate for different learners.  Clearly every instrument for assessing learners has weaknesses, but different tools make an assessment helpful to evaluate the learning process.
Overall this textbook has been extremely beneficial because it approaches a huge topic, but is broken down into small pieces and addresses multiple issues in educational psychology in a concise way.  I have already begun to implement and consider how these educational principles can help me to refine and further develop our training in Cambodia and elsewhere.
I would highly recommend this book to any educator, whether it is in a public school system or Sunday school class.  This book will help you understand the issues related to education specifically into teaching with effectiveness to a broad group of students.  Especially for Christian educators, it is important to strive toward excellence.  Even though there are no pictures, no Bible verses and very small text, it is a helpful book in helping me to be a better teacher.