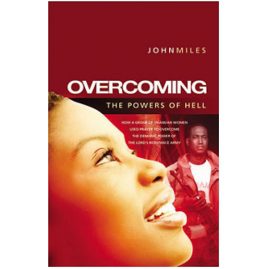 "Overcoming the Powers of Hell" by John Miles and Beatrice Omese. New Wine Ministries, Chichester, West Sussex, United Kingdom, 2009.  160 pages.
Review by Steve Hyde
This book drew my attention for two reasons; first I thought it might be about deliverance since the title is "Overcoming the Powers of Hell".  Secondly, the subtitle is "How a movement of prayer and faith defeated the evil forces of the 'Lord's Resistance Army' in Uganda."  Since I have been to Uganda and knew of the horrors of the 'Lord's Resistance Army' (or LRA), I was curious to learn more.
The sub-title, however, was problematic for me. It refers to the LRA as being "defeated".  However, just this month, the US announced it was sending more than a hundred Special Forces to help train the Ugandan military to hunt down Joseph Kony and destroy the LRA for good.  There is also a story about a Christian man called "Machine Gun Preacher" (Sam Childers) who has been offering protection to villages and trying to hunt down Kony as well.  So, Kony, though clearly on the decline, is not "defeated".  This, however, did not make me want to not read the book, just read more carefully.
The book is really a 'self-published' one, and one in which the author, John Miles, clearly has a long-time friendship with Beatrice, of whom the story of the book centers.   It is a heartwarming story.  A story filled with horror when you hear of what the LRA has done to Uganda and especially to the children.  So many children have been killed, so many villages attacked.  No place was safe from the LRA.
This book covers many of the historical and factual elements of the rise of the LRA and the problems in Uganda, but also touches on the miracles that Jesus has done in that country.  It shows how God used widows who have lost their husbands and children to the LRA and other horrors to be models of forgiveness and helping other widows to have transformed lives.  Through these humble groups of widows, a prayer movement to break the spiritual power of Joseph Kony emerged.  Since that time, most of his forces have dwindled.   Though not fully defeated, the time is soon approaching.
I would recommend this book to anyone who is interested in Uganda, or knows of the past violent past of the country.  Also, it is a great heartwarming book of the testimony of a widow, who would normally be discarded in the Ugandan society, but whom God has used to speak to national and world leaders about the plight of widows and the ruthlessness of the LRA.  Nearly everyone would be blessed by the life of Beatrice Omese.