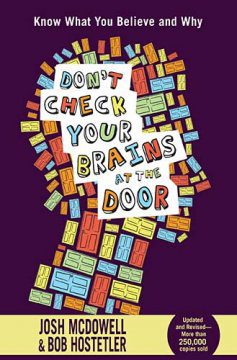 "Don't Check Your Brains at the Door" by Josh McDowell and Bob Hostetler.  Tommy Nelson. 1992, 2011. 159 pages.
Review by Steve Hyde
This is a "youth version" of Josh McDowell's book of the same title published in 1992.   I didn't read the version in 1992, so I am not sure how it compares to the current version.  My guess, the chapter titles were changed to be "cute" for kids. The reason why I chose this book to read is that I was looking for a book for my son.   The result of my review. . . I will not be giving this book to my son to read.
Why?
It is absolutely essential to me that my son knows what he believes.  The basic pattern of this book is to give an argument about what the world says about Jesus, then it gives verses for the reader to think about in contrast with the "myth".  Ultimately, it follows the logical arguments of apologetics in which 1+1 = 2.  However, we don't live in that world anymore.  1+1 in today's world can equal 72 if you want.  I believe the approach of "apologetics" to debate about the truth of Jesus is not of much value today.  People are not swayed by arguments, nor are people's beliefs defined by a set of logical arguments.  I think today, belief is largely formed by one's life experiences, past education and self-study, and what those around us believe (peer acceptability).  This book only hits one aspect of developing a person's belief (education), however, for an adolescent audience this book is going to be a tough sell.
Who would buy this book?
The audience of this book is not really youth.  Youth world probably never buy this book.  The cover design is dated.  The chapter headings are dated.  Consider "Chapter 2: The Luke Skywalker God".   A 21st century youth probably doesn't know much about Luke Skywalker like I do (I'm 40!).  Much of the content is also dated.  In Chapter 5 it gives the example of 1970's "Jesus Christ Superstar".  Really?  That was 40 years ago!  Even older than that was chapter 28's subtitle "The Elmer Gantry Myth".  I had to look up the story, it was from a book in 1929 which mocked "evangelists" and those public Christians.  It asserted that these "evangelists" were really living a double life and did their "ministry" for private gain.   Chapter 42 starts off my quoting from Belinda Carlisle 1988 song "Heaven is a place on earth." I wonder what a young person born around the millennium thinks about a 1988 singer.  My guess is nothing.
So, who is this book for?  I think the publisher was looking to hit 40 to 50 year old Sunday school teachers who would buy a bunch of them for their youth.  Unfortunately, I think the result would be some really bored young people having to work though this book for a few months.
I was disappointed with the effort put into this book to make it a viable book to teach youth about what they believe in the 21st century.  It basically is a negative book.  It has 42 short chapters which attempt to use Bible verses to show why a certain idea (myth) is wrong.  However, this book never puts forward a "right" belief; only 42 wrong beliefs.  This is why I don't like apologetics.  It teaches people to argue why others are wrong, but the ultimate outcome is further confusion.
    Disclosure of Material Connection: I received this book free from the publisher through the BookSneeze®.com <http://BookSneeze®.com> book review bloggers program for my honest evaluation and review.