"Bill Wallace of China" by Jesse C. Fletcher. Broadman Press, Nashville, Tennessee.  1963.  157 pages.
Review by Steve Hyde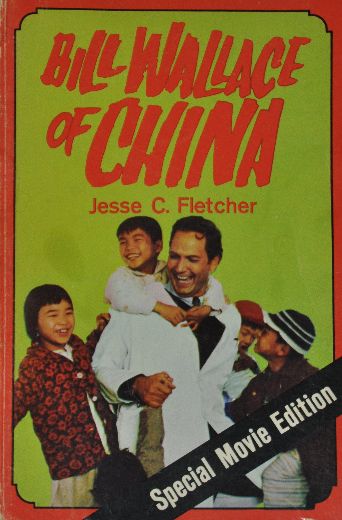 This book began by saying that William (Bill) Wallace would be a man who the world would soon forget.  He was not a great preacher, in fact, he avoided public speaking at all costs.  He was not a pastor; he was a surgeon.  He just wanted to love people and be the best surgeon he could be.  In 1935 as a young surgeon in Tennessee he felt God's call to be a missionary doctor.  After a divinely orchestrated request from the field, Bill Wallace ended up in Wuchow, southern China.  It was a bad time to be in China.  China had been at the brink of civil war for some time. Forces of Chaing Kai-shek and Mao Tse Tong raged ruthless battles.  At that same time when insecurity was going on in China, Japan seized the moment to invade China and expand its empire.  This is the country in which William Wallace served.  All through the Chinese civil war and World War II he served.  Many times he came through danger and direct Japanese bombardment.  God spared his life dozens of times, if not hundreds.
Through it all, he persisted in loving the people and serving them as the best surgeon he could be.  Even his brief furloughs he used the time for further study and gaining more medical knowledge.  He avoided public speaking whenever possible. Finally, the Americans beat the Japanese and the Emperor of Japan surrendered.  China was weak and disunifed at this point.  The communists, backed by Russia, seized on the opportunity and waves of communist Chinese brutally smothered Chinese cities, much like the Japanese had done.  Through all the war, natural disasters and sickness Bill Wallace faithfully could be found working long hours as a surgeon in the Hospital of Wuchow.  When the Chinese came, they were more brutal than the Japanese had been, especially to foreigners. As another war, the Korean War raged, in February 1951 Bill Wallace ending his last days on earth. Bill Wallace was unceremoniously beaten and tortured to death in his prison cell.  He died a martyr to Christ at the hands of the communist Chinese.
This is a great book to read.  Bill Wallace was a surgeon, he was not a preacher or theologian.  He left no books or diary to ponder his life by.  He simply was faithful in the task that God had called him too.  He shared about Jesus and showed the love of Christ at all times, never seeking anything for himself. The people of China loved him for it.  Hundreds of thousands of people's lives were saved by him.  He died in the country he loved.  China.
I would recommend this missionary biography to anyone to read.  It was made even more special because it was written by my "uncle Jesse Fletcher". "Uncle Jesse" is my missionary uncle and was the President of the university where I studied.  Even though Bill Wallace died long before I was born, I am encouraged by his life and witness.  I feel like missionaries of old knew how to sacrifice much more than us today.  Sacrifice and hardship seemed normal.  I appreciate this and my own life is challenged by it.  It seems that missionaries of a day gone by made decisions, not based on policies from the headquarters in America, but according to how God leads. This is quite unusual today where a thick policy manual makes most decisions. This is pretty radical considering how most groups operate today, who are seemingly more concerned about legal protection than God's will.  When you read this book, I believe your faith will grow.