Cambodia often prides itself in the lack of natural disasters.  We never have earthquakes.  We rarely get hit with typhoons.  Well, that all changed last week.  Typhoon Ketsana roared across the Philippines flooding the capital city of Manila.  The Philippines gets hit by more than 20 typhoons per year.  A few hundred people were killed in the Philippines then it moved on toward central Vietnam and quickly smashed into northern Cambodia as well.  It finally fizzled out over Thailand after moving inland several hundred miles.
Some people wonder what is the difference between a typhoon, cyclone and hurricane.  Are you smarter than a fifth grader?  Nothing! It just has a different name according to which ocean the storm came from.  The Atlantic Ocean storms are called hurricanes, Indian Ocean have Cyclones and the Pacific have Typhoons.  I think "typhoon" is the coolest name though! 🙂
Anyway, last week the typhoon flooded much of northern Cambodia.  Most rivers broke their banks and then flooded and destroyed an estimated 75,000 acres of rice fields, just as they are nearing harvest time. 11 people died as the strong winds collapsed their houses.  Most of the dead were women and children.  Roads were destroyed, crops destroyed, schools flooded, and typical of most rapid responses, they simply pass out a box of instant ramen noodles, a bottle of soy sauce and about 10 pounds of rice to each victim.  A week later, the photographers are gone and so is the not so healthy food, but the roads are still washed out, the fields are destroyed, the schools are still knee deep in mud and water.
We can't help them all, but I think we can help some in a tremendous way.
   $4,000 will put drainage pipes into a school in Poipet which is knee deep in mud and water.  Result, more than 800 students go to school without having to wade through muck. The school has been flooded for nearly six months already and as there is no alternative, so classes continue as usual.
   $4,000 will repair the only road to Beung Roun village in Kracheh which got washed out and put in a culvert so that next time it floods it will not get washed out again.  All 500 villagers will be able to get their goods to market easier and cheaper.  The overall economy of the village will likely improve.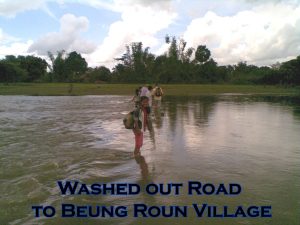 $3,000 will buy some rice seed so that some areas will be able to re-seed their fields and try to get another harvest.  Most villagers borrow the rice seed from vendors.  At the harvest time they will re-pay the rice seed with a portion of the harvest.  Without the harvest they have a debt which will be taken double out of the next harvest.  That being the case, it is likely that more than 80% of next year's harvest will be confiscated by the vendors.  Providing rice seed will allow them to re-pay the debt and keep their own harvest as well.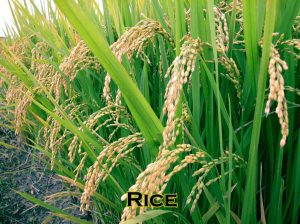 If you are interested in helping, please contact Steve Hyde at [email protected]