The Royal Order of Sahametrei is the highest award given to foreigners in Cambodia.  This order was established in 1864 by the King Norodom I of Cambodia and has been continued, under royal decree, ever since.  It is awarded in five classes which are the: Grand Cross, Grand Officer, Commander, Officer, and Knight.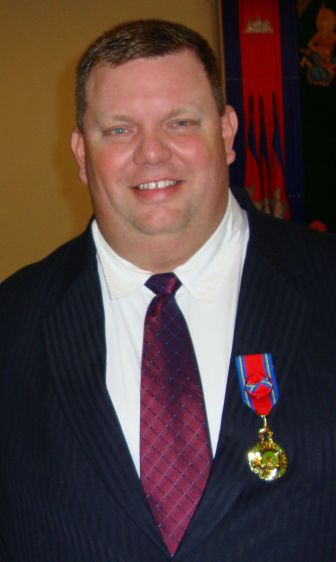 On February 9, 2010 Steve Hyde was awarded the medal of the Royal Order of Sahametrei for distinguished services to the King and the people of Cambodia.  He was given the rank of "Officer" or "Sena" in Cambodian.  Steve has been working in Cambodia since 1994.  This award was given for his role in building a new children's center in Poipet and helping impoverished families and children.  It was presented by H.E. Sak Setha , Secretary of State, on behalf of the Deputy Prime Minister and Minister of Interior H.E. Sar Kheng.
Sahametrei is an ancient word which refers to peace and mercy.  Steve is the president of Antioch Institute with more than 4,000 students in 22 of the 24 provinces of Cambodia.  He is director of Words of Life Ministries which produces hundreds of books and other media in the Cambodian language.  He is also the director of Imparting Smiles which is an association committed to educating and caring for orphans, abandoned children and children from rural areas who have no access to education.  Imparting Smiles currently cares for and educates about 130 children.
Previous awardees include heads of large organizations, presidents of universities, Prime Ministers and Ambassadors of foreign nations.
Steve's wife, Noit, is equally involved in every aspect of service and care of children.  Steve is also supported by a staff of more than 20 Cambodian workers who faithfully and sacrificially work together for more than a decade.  They are equally deserving of the award.