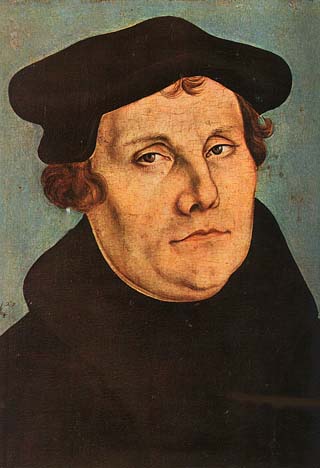 On October 31, 1517 (493 years ago) Martin Luther posted his 95 theses to the door of Wittenberg Castle which contained a catholic church and seminary.  This act and the debate that followed brought about the division of the Western (Roman) church.  Division has since become one of the major characteristics of the Protestant movement.  Being a Protestant (by default, since I am not Catholic) every October 31 I reflect on Martin Luther and what he started.  I respect Martin Luther greatly and admire him most for making the Bible available in the German Language. I keep a picture of him on my personal computer for inspiration and watch a movie of his life every few months just to inspire myself.
Recently I read an article by John Morris which was called "The 500-Year Test" in which he speaks about lessons learned since the Protestant Reformation.  He states, "After an energetic and powerful start, the church that originated with the Reformation now have their own liberals and formalists, their monastics and scholastics, their false prophets and even violent right-wing extremists.  Within the Protestant church are those who have departed from the Faith and exhibit hostility to the gospel to the point that some churches now ordain practicing homosexuals.  Thankfully there is a core remnant of true believers who have kept the faith, there are those who have known times of revival and are taking the truth to the ends of the earth."  He later on adds that non-Protestants observe we are, "an obscure minority swimming against the tide of modernity, vainly holding onto the past."
Looking at the health of the church it seems we are long overdue for a new reformation.  A reformation which I believe has a new definition of the church at its heart.  No, not a radical new view, nor a traditional definition, but a Biblical one.  Do you know what Martin Luther was challenging the church on when he posted his points of debate?  I would recommend anyone interested in Church history to read the 95 theses (see the English translation here).  I would think it "required reading" for any Protestant leader. (Do you know that the Catholic Church has already reformed most of what Martin Luther was challenging?) As I read the 95 theses I found that the 95 theses are really just one argument.  In summary: The church may not grant forgiveness of sin, only God can; and the believer is to live a life of repentance in order to receive that forgiveness from God himself. The focal point of the 95 Theses (or statements) is in biblical truth that believers are responsible to seek God and repent of any sin which has encroached upon their life.
What was the result of this one page thesis?  Luther was excommunicated from the church. Over 100,000 Germans were murdered when they insisted on separating from the Catholic church.  The German church, later called Lutheran church, was born and seemingly innumerable denominations split off of that movement over the next 493 years.
Coincidently, in the last two days I have discussed with two leaders (one in Asia and one in America) about their perceptions of the church today.  Both, without any prodding from me, consider that the level of Biblical knowledge and application is rapidly decreasing.  From what I observe, I have to agree.  It seems as if believers today are willing to chase anything except commitment to Jesus Christ. As the knowledge of scripture decreases, its application is equally reduced. Just consider some of the actual sayings of Jesus in the Bible (the red letter stuff!):
24 Then Jesus said to his disciples, '

If anyone would come after me, he must deny himself and take up his cross and follow me.

25 For whoever wants to save his life will lose it, but whoever loses his life for me will find it.'" (Matthew 16:24-25)
"37 Anyone who loves his father or mother more than me is not worthy of me; anyone who loves his son or daughter more than me is not worthy of me; 38 and anyone who does not take his cross and follow me is not worthy of me." (Matthew 10:37-38)
"21 Jesus answered, '

If you want to be perfect, go, sell your possessions and give to the poor, and you will have treasure in heaven. Then come, follow me.

'" (Matthew 19:21)
"35 But love your enemies, do good to them, and lend to them without expecting to get anything back. Then your reward will be great, and you will be sons of the Most High, because he is kind to the ungrateful and wicked. 36 Be merciful, just as your Father is merciful." (Luke 6:35-36)
"21 Then Peter came to Jesus and asked, 'Lord, how many times shall I forgive my brother when he sins against me? Up to seven times?' 22 Jesus answered, '

I tell you, not seven times, but seventy-seven times.

'" (Matthew 18:21-22)
"8 But you are not to be called 'Rabbi,' for you have only one Master and you are all brothers. 9 And do not call anyone on earth 'father,' for you have one Father, and he is in heaven. 10 Nor are you to be called 'teacher,' for you have one Teacher, the Christ. 11 The greatest among you will be your servant. 12

For whoever exalts himself will be humbled, and whoever humbles himself will be exalted

." (Matthew 23:8-12)
"19 Therefore go and make disciples of all nations, baptizing them in the name of the Father and of the Son and of the Holy Spirit, 20 and teaching them to obey everything I have commanded you. And surely I am with you always, to the very end of the age." (Matthew 28:19-20)
I wonder if Dr. Martin Luther were alive today what he would say of the church?  I am certain he would be surprised to learn about the existence of Lutheran churches who call themselves followers of Luther.  I think he would be saddened by the defragmentation of the church (some 9,000 denominations in the US and over 33,000 worldwide. . . and that is among the protestants). It is sad how much teaching is focused on why my denomination is right and yours is wrong rather than the important things of the scriptures. A person considered to be "Christ-like" today might even be mocked by fellow believers for being ignorant and irrelevant.
We may be in need of a reformation!  It seems to me that when I look at the teachings of Jesus and then I look at what is called the "church" today and it seems so far apart.  So what can we do? What should we do?
There is no central mega-church structure to publically challenge.
There is no "protestant" body; though many would like to unite believers around themselves.
There is no single authority anyone trusts, because they all have their own doctrinal bias.
Seems like there may be only one choice:
I think Jesus foresaw the problem.  So he said,
"26 But the Counselor, the Holy Spirit, whom the Father will send in my name, will teach you all things and will remind you of everything I have said to you." (John 14:26).
Seem like we each need to dust off our Bibles and start reading afresh.  Seek the Holy Spirit to guide and instruct us as he teaches us.  He promised he would.  Then, all we have to do is one simple thing: Do what he tells us to do!
Thanks Martin Luther for taking a stand on the Scriptures.  After 493 years, we need to keep up the cause.