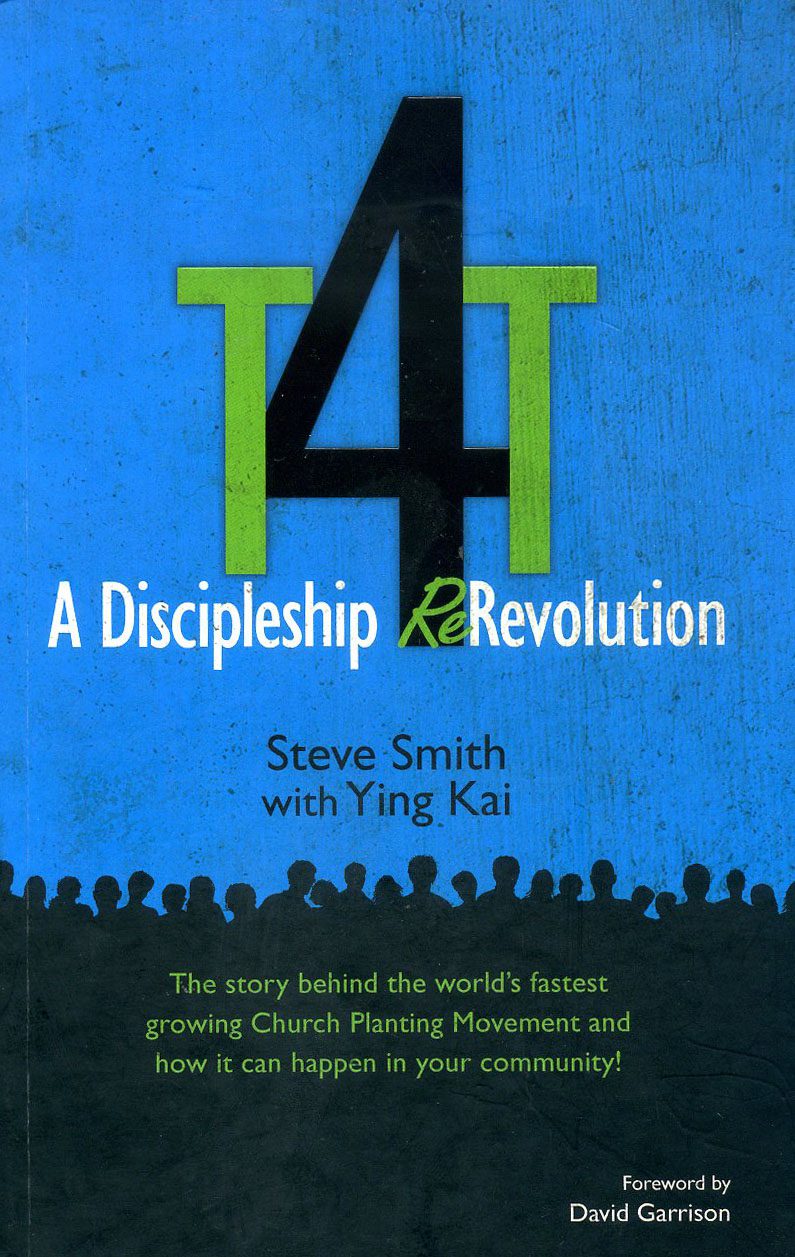 "T4T: A Discipleship Re-Revolution" by Steve Smith and Ying Kai. WIGTake Resources: Monument, Colorado.  (www.churchplantingmovements.com)  2011.
Review by Steve Hyde
There is rarely a book that I find that I think every church leader, pastor, elder or deacon should read, but this is one.  I love church research because it helps me to adjust my ministry to be more effective.  This book is based on solid research into rapid church planting growth. Would you want to learn from a pastor who grew his church from 60 to 2,000 people?  I can guarantee you that there would be books, DVD's and annual conferences to teach you how to do it.  Ok, what if I told you that Ying Kai started 150,000 churches and lead 1.7 million people to Christ faster than it takes your church to baptize 20 people.  Are you interested in learning a few things?
Want to find out what they and the Holy Spirit did, and also find out how you could do it too?  Then this is a book for you!  I highly recommend it.  The content is of the highest quality but unfortunately the writing is not that great. Ideas are a little disjointed, some concepts are not very clear and the flow is not very good, but you can still "mine it" (dig the good stuff out).  The concept of T4T is all there to show you exactly how they did it (and still continue to grow the movement).  Numerous churches and movements around the world have applied the principles (straight from the Bible) and seen similar rapid growing church growth in other countries and both in rural and urban settings.
Essentially, this is a matter of ecclesiology (your theological understanding of the church).  If your idea of the church is limited to the modern 501c(3) non-profit entity, institutional, meets for 1.5 hours on Sunday morning, and there is always one more building project,  has a full-time staff which works in the church office, then you can expect to see only growth associated with this model (slow).  If you however, are willing to check your ecclesiology with the Bible and implement obedience based discipleship, then this book is for you.
What is obedience based discipleship?  It is teaching all believers to obey what God tells them to do and holding them accountable daily and weekly.  It is mentoring and encouraging them to accomplish God's purpose for their life.  And here is a crucial element: you have to let go (not control) and allow the believers and the Holy Spirit to work.   I like three truths which he records (which I call rules of church planting).  These rules of church planted are based on Matthew 28:19-20 and say to: 1) Go, not come (don't expect non-believers to find you, you find them);  2) It is for everybody, not just some (train everyone); 3) Make trainers, not just church members.
Smith and Kai are also clear that this requires a new wineskin.  The old institutional models cannot contain it.  In the book, they talk about how to transform other traditional church models into rapidly growing churches, but they also talk about how to start from scratch (a few new believers).
If you are only going to read one book this year, I recommend you read this one over any others.  Well, not over the Bible, but over any fiction novel or self-help book for sure!