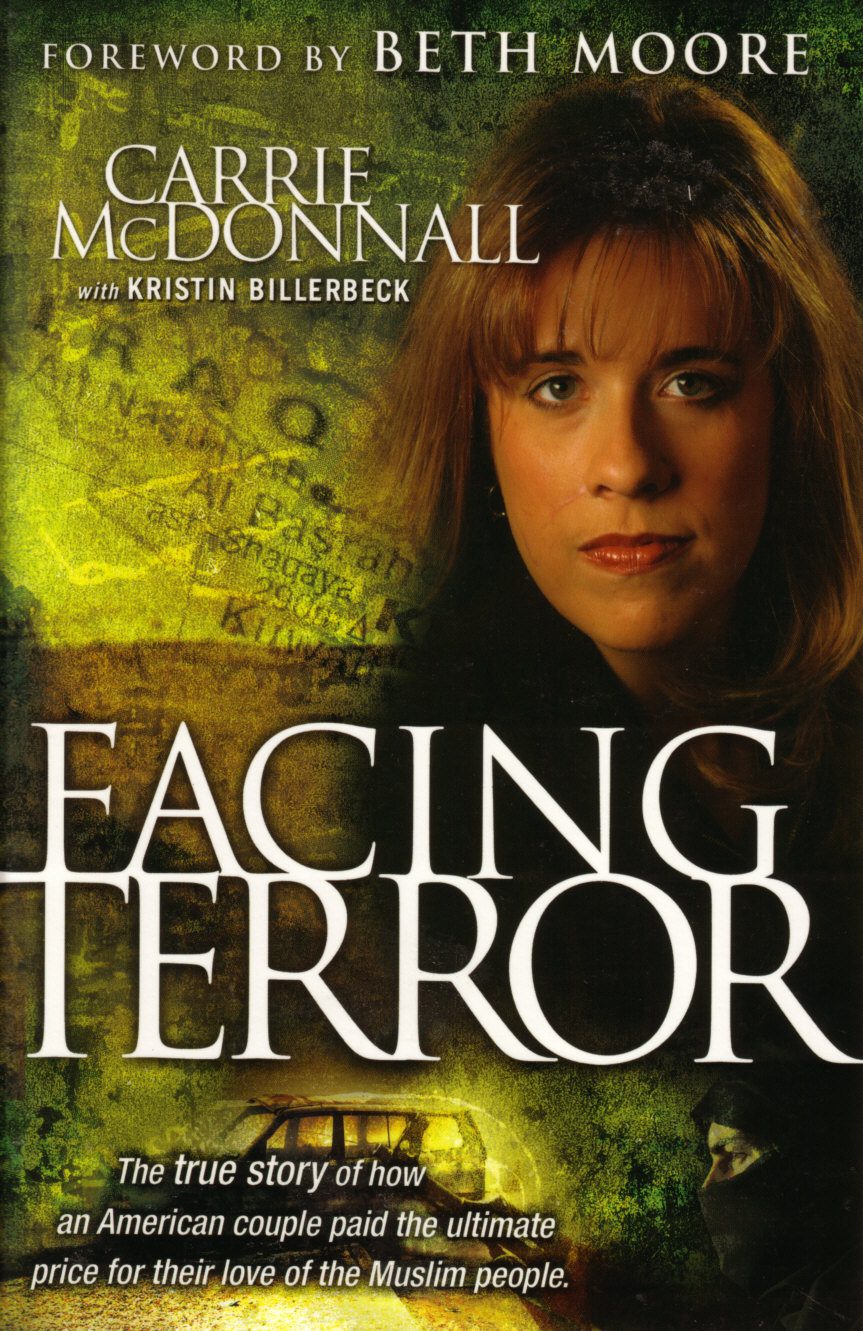 "Facing Terror" by Carrie McDonnall. Thomas Nelson. Nashville, TN.  235 pages.
Review by Steve Hyde
"Facing Terror" was the best book I read in 2011.  It is a must-read biography which will warm your heart.  I like to read biographies, but this one I had a special connection too.  It is the story of Carrie McDonnall.  Carrie and her husband David as well as missionaries Karen Watson, Larry and Jean Elliott were gunned down in Mosul, Iraq in March of 2004.  Out of the five, Carrie is the only one who survived the brutal attack by Arab terrorists.  "Facing Terror" is the story of what happened and what led her and her husband as a young couple to go to Iraq to help the people.
It is a special story to me because the five missionaries were Southern Baptist missionaries like my father who was killed almost exactly one year earlier in the Philippines.  I think this book should be required reading for any Southern Baptist.  As I read the story of Carrie and David in the book I thought about my roots in the Southern Baptist denomination.  As I read, I consider Carrie, her husband and those who died with him heroes in the real sense of the word. They are true martyrs who died for Jesus.  They died showing love to Muslims.  They paid the ultimate sacrifice.  In their ministry, they were representatives of the Southern Baptists at large.  Yet, as I thought about other "heroes" in the Southern Baptist church, my mind drew a blank.  They only real Southern Baptist hero I could come up with was Lottie Moon, who died loving people in China.  Our annual mission offerings as a denomination are named after her.
There are other "great" leaders who are Southern Baptist, but they are not what I would call heroes.  Southern Baptists cannot be traced back hundreds of years to great reformers directly. The Southern Baptists started on the wrong side of slavery over a hundred and fifty years ago.  No heroes there.  Most of our "famous" leaders are famous for their speaking ability and insistence on theological points (apologetics) which define "us" as more right than "you".  I am sorry, but that is not a hero to me.  Carrie McDonnall is a real hero, along with her husband and those who died serving Jesus.  Beth Moore (another famous Southern Baptist) wrote the foreword to the book and personally knew Carrie. Southern Baptists have a huge global publishing arm, but this book was published by Thomas Nelson.  That seems odd and a bit sad to me.
This book is the best written book I have read this year as well.  From chapter one it captivates you as it describes the final attack that changed Carrie's life forever.  She recounts in detail what it was like to be hit at least 22 times by bullets and shrapnel.   The rest of the book covers what brought her from a single young journeyman (a kind of apprentice missionary) to marrying David and moving to Iraq.  It shows their love for the Arabs and their culture.  Every chapter of the book is captivating from beginning to end.
I could feel her pain in the loss of her husband.  I really know what it feels like to have a loved one killed by terrorists.  From the book you can feel for her and the lost that she faced.  Not only was she the only one to survive the attack, but her body is horribly scared and disfigured by the damage from 22 rounds from AK-47's and an Uzi.  She will live the rest of her life always remembering that moment.
This is a great book to read that I would recommend to anyone.  It is the best written biography I have read in a long time and a story that will impact your heart.  Carrie McDonnall is a true Christian hero who is continuing to live her life as a testimony to her martyr husband David and to Jesus Christ, who is the reason she has endured this pain.
Appropriately, she has started a ministry called "Carry On" (a word play from her name), but it speaks volumes that she is pursuing how to carry on even though her life is forever changed.  Through her website she can be invited to speak at churches or events.