Day one of motorcycle trip with my son Paul.
Location:  Phnom Penh to Preah Khan Temple to Preah Vihear City.
Distance Traveled:  400 kilometers (12 hours driving)
My son turned 12 years old last month and is quickly becoming a man, so on my latest teaching trip into Northern Cambodia, I decided to take my son on a motorcycle trip through the jungle.  We were heading for Preah Vihear province: A northern province of Cambodia previously known for years of warfare, thick jungle and land mines.  At 5:00am we headed off from our house in Phnom Penh.  At noon, we arrived at a junction in the road when we stopped to eat some food.
Seeing the jungle terrain around me I asked one of the villagers if there were any temples nearby.  They said there was a temple called "Bakan" but it was "far".  I was curious so I enquired about how to get to the temple.  In our conversation I found out that the temple is really known a "Preah Khan" which means "Temple of the Sacred Sword".  How could I resist visiting that temple!!!   They told us there were two ways to go.  The "easy way" was a 60 kilometer paved and newly made dirt road.  An old grandfather said to us that there was another way which was much shorter.  It was the "ancient road".  Wow, again!  There was no way I could resist!!!  He told us the distance was only 32 kilometers so I figured we could sprint over to the temple.
After eating a good lunch we headed off.  Within 200 meters, we knew that this "ancient road" was going to be a challenge.  It was just a glorified animal trail.  Having driven a couple hundred kilometers on paved highway, I was ready to get into the jungle.  Within minutes we were ducking tree limbs, weaving through trees and swooping through dry creek beds.  It was awesome!!  Two and a half hours later, almost thinking that the ancient road would never end, we emerged from the jungle into a small village.  Another fifteen minutes of driving and we saw our first temple hiding in the jungle.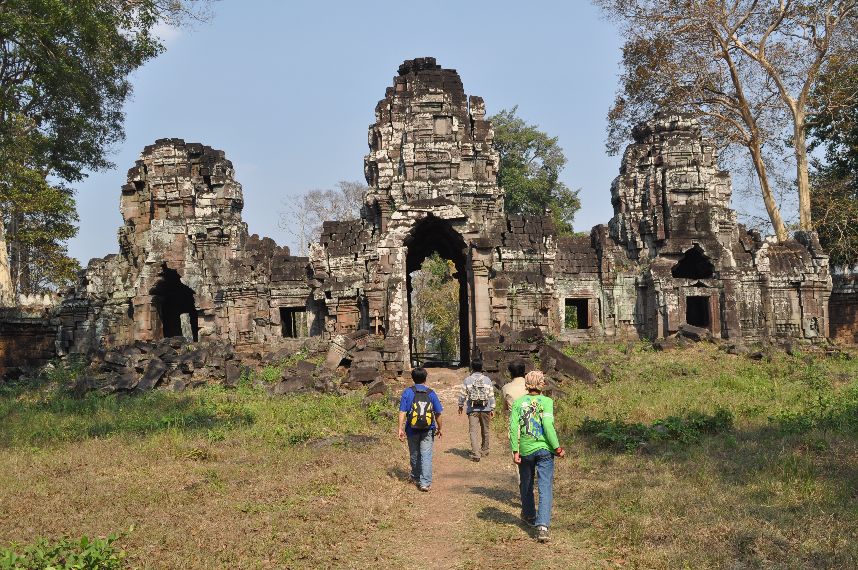 The temple was heavily looted, which later we found out what done by Cambodian looters only in 2003.  It was sad to see the damage.  Surely, many of the statutes and bas-reliefs are sitting in museums and private collections around the world now.
We never did find the "sacred sword"; my guess it was stolen long before 2003.  But it was a fun conclusion to 12 hours on the motorcycle for that day.  After we explored the temple, we left by the "easy way".  It took about one hour!
Have a look at what we found at the Temple of the Sacred Sword!  The temple complex was built around 1010-1050 AD and is the third largest in Cambodia.  The main temple covers 5 square kilometers!