Day four of motorcycle trip with my son, Paul. 
Location:  Preah Vihear City to Kompong Sralao on the Laos Border and back.
Distance Traveled:  320 kilometers (10 hours driving)
This trip was not to an ancient temple, it was to one of God's magnificent creations:  a giant waterfall.  The northern border of Cambodia is connected to Thailand in the west and Laos in the east.  The Mekong River slides down through Thailand after first collecting water from Tibet, China, Burma, Thailand and Laos and then it enters into Cambodia and spits out to the ocean through Vietnam.   It is 4,909 km (3,050 mi) long!! By the time it gets to Cambodia it can easily be three miles across.  Looking at satellite pictures you can see the border between Cambodia and Laos is a huge waterfall which appears to be miles across.
Sure enough, it is!! There is no way a photograph can capture the power and size of this waterfall.  It is truly awe inspiring.  The entire Mekong River dumps over rugged and sharp rocks and plummets fifty feet or more into more turbulent and churning rapids.  I was surprised that the rocks were so sharp instead of rounded.  They must be extremely hard rocks.
We enjoyed a restful time sitting by the raging water, taking pictures, and throwing rocks.
The river is actually the border with Laos.  Nearly everyone who lives on either side of the river are Lao people and speak the Lao language, not Khmer.  We found some Khmer speakers though.  When we asked what kind of business people had in the area we were shocked with the answer.  Several people told us, "We drink a lot of alcohol and we sell a lot of alcohol between the two countries!"  Wow!! Their business is to get drunk.
Amazingly, we met a Filipino missionary who is living there.  He is the only Christian witness in that area.  He has a tough task ahead of him.  We stayed awhile fellowshipping with them and prayed for their ministry and family there in that remote border village.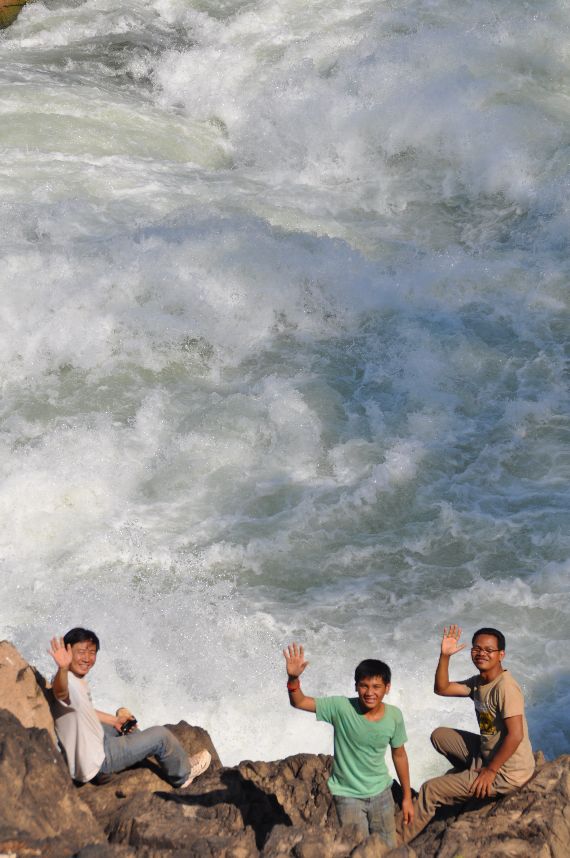 Other pictures of the area: