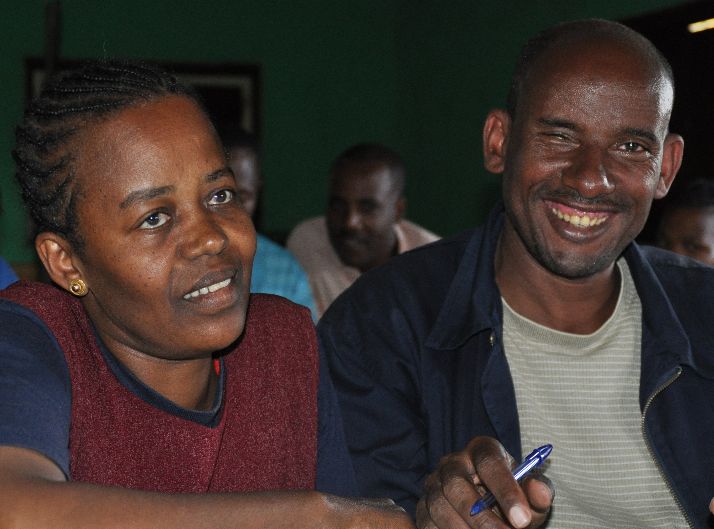 Abera is an amazing man with an amazing wife.  I met them here in Ethiopia.  They are national evangelists and missionaries.  Abera is hard to miss.  He has only one eye but has big smile.  As I was teaching I talked about persecution and his wife signaled to me that Abera had been beaten for his faith.  At lunch time I had the opportunity to talk with him about his experience.
Abera has been an evangelist for thirteen years.  In those thirteen years he has a passion to reach the Muslim people, but he wants to go to every unreached people group in his country.   He and his wife recounted the history of his missionary career through the times he was beaten.
First, Muslims.  They were Sunni Muslims in a town only 35 kilometers from where we are now.  He tried to share with them about Jesus, but they beat him badly.  In his first beating he broke ribs and even his spine was broken.  Then with a big smile he said, "four churches!"  He continued, "Four churches were planted after they beat me."
Second, Orthodox. They were actually demon worshippers, not really "Christians".  They worshiped demonic forces.  When Abera went to tell them about Jesus they decided to stone him and his partner.  His wife was also with him.  He said when the first stone hit him, his arm was ripped out of its socket and flipped around backwards.  They were pummeled to the ground.  His wife was untouched but just knelt and prayed for them.  Both were beaten until they were almost dead. After they quit throwing rocks, Abera recounted what happened next.  "We both just stood up.  It didn't hurt.  We walked away.  It was a miracle.  My partner's whole eye and head was swollen, but God healed it."  Then came that big smile again.  "Six churches", he said.  His partner is now a missionary in Pakistan.
The third and fourth beatings were by military and police. They hated me for entering the southern border region to share about Jesus.  They beat me very bad.   He didn't describe his beating much, but then that trademark giant smile came out.  "Five churches",  Abera said with some pride.
Another time he was beaten by Muslims.  Not just any Muslims he told me, Al Qaeda.  In that same place another Christian was beheaded and more than twenty others had their legs and arms chopped off.  They beat me very badly and I thought they could decapitate me as well.  Then out came that big smile again. "Four churches."  Many Al Qaeda came to Christ also.
I was in awe listening to the faith and perseverance of Abera.  What a fantastic believer.  What a fantastic man.  Then he gave some advice for those who evangelize and plant churches.  He said, "First you suffer, then you win. That is the way that it happens."  Many of the people who beat him became Christians now and not only that, some are even evangelists going and taking the gospel to others.
Abera means "light".  Abera desires to go as a missionary to Iran or Iraq.  He said, "I want to reach Shia Muslims.  They are hard.  Sunni's are easy."  Pray God opens the door for Abera to be a "light" in these hard countries.
When I talked to the director of the school about Abera and all the persecution and beating he had faced he just sighed and said, "He is a very aggressive evangelist, so he gets in trouble a lot!"  But he added further, "His wife is an incredible woman of prayer." Praise God for these two: Warriors of prayer and warriors for the gospel.