Merry Christmas from Cambodia!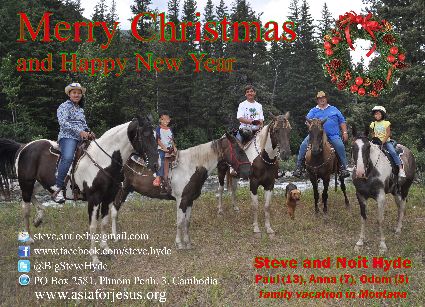 This was a great year for us in Cambodia and the region where we work.  Our team of leaders planted as many as 300 churches in Cambodia alone and helped many other leaders as well including the Philippines and Ethiopia as well.  This year I trained pastors and visited: in Africa: Ethiopia and Mozambique; Asia: Singapore, Indonesia, Malaysia, Philippines; South America: Brazil; and several short visits to the US.  It was a difficult travel time with flying completely around the globe six times! Yet, these trainings we very fruitful and beneficial. In this year we prayed that God would send us more workers, and beginning in January, we will begin to see the fruit of our prayers with a family coming to work in the school we started (Antioch International School which now has more than 300 students), another family will be coming with a 5 year commitment from Ethiopia to help with evangelism, church planting and development among Muslims, a veterinarian is also coming from Brazil, and we are excited about hosting a mission training program next summer as well.
We are grateful for the churches who came to hold VBS's for us and partner with us.  Kingsland Baptist Church in Katy, TX has been amazing helping us develop the ministry in Poipet, ACTS Church (Active Christians Together in Service) from Austin, TX, Freedom Church in Owasso, OK, The Gate in Victorville, CA gave us electricity in Kracheh for first time! Bellevue Baptist Church in Memphis, TN, Hosanna! Lutheran Church in Minneapolis, MN and Stairway Church from Melbourne, Australia, CLGC (Christian Life Gospel Center) in Petaling Jaya, Malaysia.  We are so grateful in your investments into the lives of children of the next generation in Cambodia.
We are also incredibly grateful for the foundations which support us and enlarge our capacity to minister in Cambodia.  Maclellan Foundation, Nordick Foundation, Master's Plan and other anonymous foundations. Thank you all so much.
Of course, none of the ministry would be possible without the most amazing team of dedicated ministers and your families.  Poline, Karony, Bopea, John, Kuntea, Chunnat, Lomsa, Hosea, Roat, Vut, Tout, Sareth, Tida, Dan and Heidi, Bunna and Sinat, Prium and Khon, Sothea, Panna and Ben and Ester. We have a relatively small time but a huge impact thanks to hundreds of volunteers and pastors who work alongside us. Thank you all for your amazing dedication to serving God is difficult situations!
The greatest joy for us in 2012 is the printing and publishing of more than 50,000 New Testaments of the Khmer Christian Bible.  The Bible is now available for iPhones, Android and other mobile systems.  We are opening the flood gates of Bibles into Cambodia where currently only about 25% of Christians own a Bible! We are continuing now with the translation of the Old Testament from Hebrew.
We still have many needs, like a home school teacher for my three kids and teachers for our children's centers.  Pray that we can find workers to help us in the great revival which is taking place.
Thank you for your prayers and support of us here in Cambodia.  God is using you for a great transformation of this nation and others as well!
Merry Christmas and God bless you,
Steve, Noit, Paul, Anna and Odom Hyde