Walking hurts.  I know people are curious, but too polite to ask how much I weight, so let me break the ice and offer it to you.  In February I weighed 412 pounds.  Eeek!  Then I got exercising and on a special low-carb diet and when I started walking this morning I weighed 372 pounds.  So, those twenty plus kilometers I walked today really hurt.  The most painful thing was carrying my backpack with all my clothes, water and this little computer!
As I walked, we had neither support vehicle nor plan of where to stop or where to sleep.  My son and I just prayed that our journey would be led by God.  This is a spiritual journey as much as a physical one.  So, at different points I was honestly exhausted and prayed and asked God where to stop.  I asked him to direct my paths.
At one point I was exhausted.  I left like I was wobbly too, but the village market, where they likely have a place to rest and get a cold drink, was far away in the distance.  Suddenly, I saw a Foursquare church and orphanage.  I ventured inside with my son needing to just sit in the shade for a while.  When I arrived I told them my name was Steve and I was a Christian too.  I also knew their leaders, Ted and Sou.  They were at complete ease and asked me and my son to come sit under the fan.
As we talked, being noon, they asked if I had eaten yet.  I told them I had not.  So they said they would prepare food for us, but asked us to rest.  They brought us cold tea and the children gathered around us.  I took to singing praise and worship songs with the kids and we had a fun time.  Later they brought their best food to us: some fish, mango salad and rice.  It was delicious.  Both Paul and I took a nap in the heat of the day.  After our nap, they told us that most of the children were sick because it had rained a week ago and this caused everyone to have colds and fever.  We prayed together for healing.   I was so touched by these little kids, some only eight or nine years old, but praying with all their heart.  I'll admit I was moved to tears with these precious little kids.  Though I could have paid them, they refused any money and I didn't want to steal their blessing as well.  Anyway, I know their leaders and the orphanage so I can come visit them anytime.  One of the old leaders were reading a book on her bed.  When I saw it I smiled.  It is called, "Keys to Preaching."  Who wrote it? Steve Hyde! Me!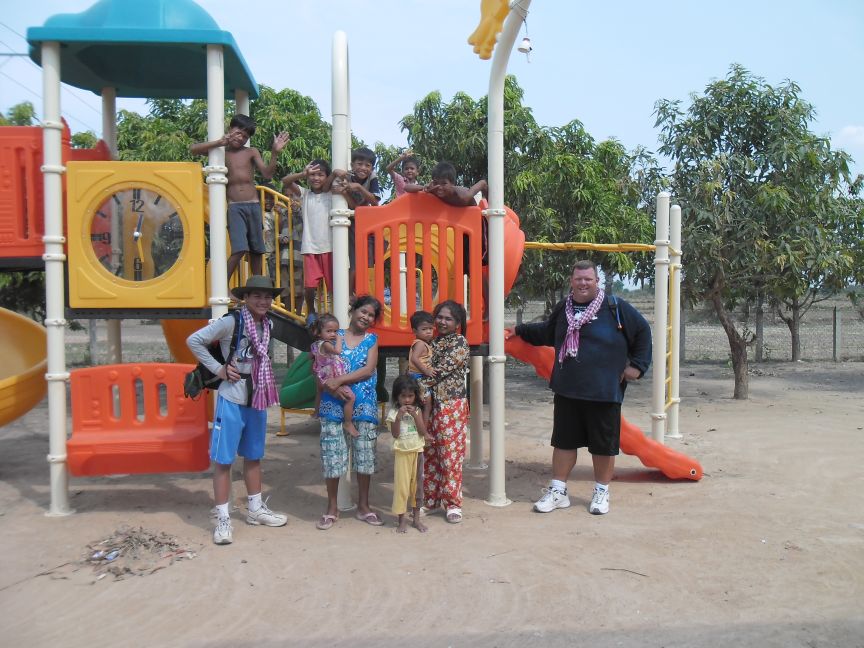 After it cooled off, we headed further down the road, quite refreshed from our food and rest.  We walked until my feet were hurting again.  I told my son that we should pray that we meet a nice person with cold water, a chair and a fan.  We didn't see anyone with a fan, but we found some cold water and a chair to sit on.  I drank up several bottles of water very quickly.  Then I told Paul that we would buy enough water to put in our "camel pac's" which is a bag of water in our backpacks with a hose which is easy to access without opening a bottle.  We filled up with 11 bottles of water, nearly an entire case of precious cold water.
While we were sitting, some of the same questions came up, mainly, 'Why were we walking?'  After my explanation a crowd formed and the owner of the shop shared with me about how the Khmer Rouge had devastated her family and now she only had two children left.  As we were talking, a neighbor brought over a stand fan and blew it right on me.  God provided a fan!  Then I asked her how much my bill for all the water was as we prepared to leave.   She replied, 'Nothing.'  I insisted I had money and it was no problem to pay, but she said, 'Please come back and see me another time and please bring your wife too.  The water is my gift too you.'  My son was amazed at the blessing of God.  This is unusual.  Cambodia's are a very giving people, but I am not poor to them.  Often they view foreigners as a cash machine, so this was unusual behavior.  But that would not be the end.
As my son and I started off down the road, maybe twenty minutes away, one of the neighbors came racing along on a motorcycle and handed us two cold cans of coke and then returned home.  We were so honored.  Even though I didn't want to drink a sugar packed soft drink, I knew that God was watching me, so he must know I need some more energy!  Once again we were amazed in the favor of God.
We continued walking.  I knew my legs were going out because we had been walking since early in the morning and now it was approaching sun down.  Our goal was to be led by God and know that God would provide our food and housing.  The next village looked far, but we had no choice but to make it.  In the village we found many unwelcome people.  They laughed at us and so I felt uncomfortable, yet I was in so much pain and didn't think I could make the next village over 3km away.  My feet were spent.  I asked some of the villagers if there were any Christian's in the village.  Immediately, one partially drunk man said, 'Yes, that old lady down the road.'  I wanted to meet her.  However, just as quickly as I started to move away, another villager said, 'No, she died already; No one believes Jesus here anymore.'  We continued walking.  At the end of the village I saw a man working at a small kitchen.  I felt led to go speak to him.  I asked if he had any food.  He said, 'No'.  Again, he was curious as to what we were doing, so I explained the story.  After I finished, everything changed.
He said, you wait here I will cook you a meal with pork.  It was his own dinner.  Indeed, he did cook it for us.  Then he asked where we planned on sleeping.  I said we didn't really have any idea.  So, he said, 'I am a policeman and I am going to sleep at the police post.  I have water, electricity and a floor you can sleep on if you like.'  I knew this was our man.  Our man of peace.  All day long I have been talking about Jesus, tonight I am writing this from the police station.  There are four police here who are so friendly with us.  They offered us everything they have so we will be comfortable.  The chief of the police post offered us his office to sleep in, which several loaded machines guns sitting in each corner. We offer them Jesus.
This has been a remarkable day.  Today, I am very tired, so I am going to say good night now.  I say good night from the village named, "Snam Preah" in Pursat province which means the "fingerprint of God".  All today, we have experience the fingerprint of God.   Thank you Jesus for always being with us!