As Paul and I were walking that last hour of our Freedom Walk through the city, we knew it was an easy walk of only a few miles.  After walking 150km on dirt and gravel, walking on paved roads was easy. The only difficulty would be the amount of traffic in Phnom Penh.  As we walked, I only had one objective to accomplish before arriving at my house and that was to buy flowers for my wife and her sister, the only two survivors of the Khmer Rouge from their family.  I had something specific I wanted to buy for them which I had thought about along the way.
I wanted the flowers clustered in the shape of a heart, showing my love for them.  I wanted fifty red flowers signifying those family members and immediate relatives who died during the Khmer Rouge.  In the center of the red roses I wanted two yellow roses.  The color yellow in Cambodia signifies royalty.  My wife and her sister are royalty and loved by God. Though my wife became a Christian about twenty years ago, it was only a few years ago her sister, Than, also believed in Jesus.  The two pink roses represent their mother and little brother who also survived the Khmer Rouge but died shortly afterward.  Both her mother and brother died as a result of the long-lasting terror of the Khmer Rouge.  It was overwhelming to look at the size of the bouquet and to think about their loss.
That night I invited our close friends and family over and we fellowshipped and talked long into the night.  The family stayed the longest and shared about their time under the Khmer Rouge and how they have coped since then.   We then took a family picture.  I think it is our first family picture.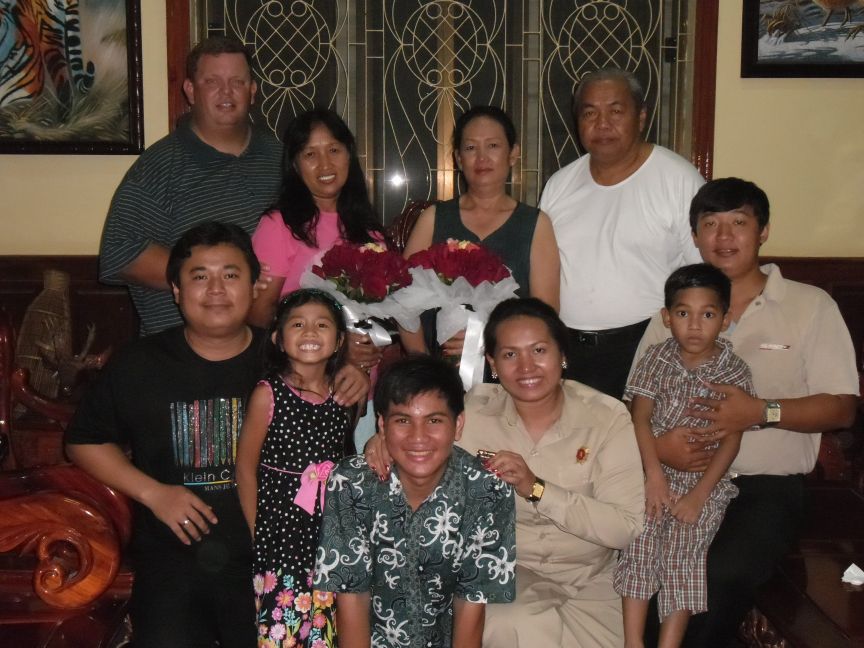 My wife's family includes myself, Steve, and children Paul (13), Anna (7) and Odom (5).  Her sister Than's family include her husband Phal, also a survivor of the Khmer Rouge, and their three children Pin (31), Pich (29), and Own (24).  Another son, Do, died tragically soon after Noit and I were married. This is the entire family.  It represents restoration and building of a new family.  With my American family, at reunions we often line up and take pictures with three and four generations of family.  My American grandmother is still alive and will turn 101 years old in a few months.  There are four generations alive at one time and a fifth generation will soon enter the world.  With my Cambodian family, however, there is only two generations alive.  Two whole generations have been decimated.  This is the entire family which survived; 10 people including the kids.
During the Khmer Rouge whole family lines were eliminated.  Even among Noit's cousins and distant relatives, whole family lines ceased.  It went along with another saying the Khmer Rouge had, "If you want to kill a weed, you have to destroy the root."  They specifically targeted whole families.  Noit's family was a target.  Why?  They were born in the city and had an education.  That's it.  This is all that remains, but our loving God can restore a stronger family in one that loves others instead of seeking to destroy them.