On Obama's second day in office he issued an executive order allowing federal funds to be used for funding abortions overseas.  So, in effect, America is now funding death throughout the world.  Across America, since Roe vs. Wade in 1973, Christians have started several thousand Crisis Pregnancy Centers across America to provide assistance and counseling for women.  Millions of women have chosen life for their babies as a result.
Overseas, in many countries like Cambodia, the message that people are receiving (by way of US funded programs and UN initiatives) is that their poverty is a result of having too many children. This is a lie.  Abortions are provided free in most health centers in Cambodia and private hospitals offer abortions for as little as $10.  It is difficult to estimate, but research by health care organizations have shown the number of abortions in Cambodia to be approximately 3,000 lives extinguished per month.  Few, if any, of these are done because of a medical danger to the mother but simply a form of birth control and gender selection.  Since 1997, under UN influence, abortion was legalized in Cambodia.  It is estimated that 400,000 Cambodian babies have been aborted since then.  While a few individuals and some churches are now working towards life, counseling women and abstinence education in Cambodia, there are no Crisis Pregnancy Centers in the whole nation of Cambodia.
LIFE INTERNATIONAL is a Grand Rapids, Michigan based ministry that is now working in 22 countries with a vision to help women in every country on earth.  It is a huge task.  LIFE INTERNATIONAL is unashamedly an Evangelical Christian organization which believes and practices a Biblical worldview.  The heart of this issue is showing the love of Jesus Christ the giver of life.
Their office space in downtown Grand Rapids was formerly the largest abortion clinic in western Michigan.  This building was first built as a Jewish synagogue.  In the building's prayer room, you can see the hand-built stone wall that those Jewish men laid from stones from the river some 150 years ago.  Later, a bigger synagogue was built in another location and the building was converted to a church.  Though it was a historical building it was later converted to office space and became an abortion clinic.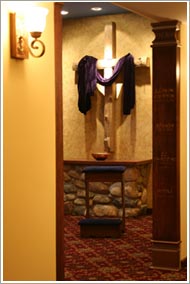 The abortions were performed in the basement of the building. An estimated 20,000 children lost their lives in the depths of 72 Ransom Avenue in Grand Rapids.
After years of ceaseless prayer by the community of believers, God redeemed His house by allowing the building to be purchased by LIFE INTERNATIONAL to be restored as a place that brings the light and life of Christ to the nations.  In the spaces where abortions were provided, there is now a prayer center dedicated to the lives of the unborn around the world.  The ministry website is www.lifeinternational.com and they can arrange tours of the facility or be involved in their prayer ministry as well.
LIFE INTERNATIONAL has already helped provide training for more than 200 pastors and women leaders on the issue of abortion in Cambodia and more training is scheduled for this year.  In the coming months they will begin to train our board, doctors and counselors in operating a Crisis Pregnancy Center, abstinence education and the promotion of the sanctity of life in Cambodia.