In November 2010 we were blessed in Poipet of a team coming from Memphis, Tennessee to build us a playground at the Poipet Imparting Smiles children's center.  This was all possible because Steve and Ellie Marcum at Bellevue Baptist Church were inspired to help the kids there.  They rallied their church's VBS program this summer to help and the kids raised the money to build a playground.
This November we were blessed with a team of guys coming out from Memphis, led by Spence Ray, to work for a full week building this playground.  Building a playground in Cambodia is not like building in the USA because we don't have Home Depot or Wal-Mart.  Much of the tools they had to bring with themselves, including chains, and rust-proof screws and bolts.  They had very heavy suitcases!   We had to pre-order the timber to build the playground which entailed having a wood-cutter go into the jungle and find the trees we requested ("kaki": a tree used for ship building because of its natural resistance to water).  Then they had to cut the tree down with chainsaws then cut each individual plank with the same chain saw (an amazing skill). Then they had to haul it (in the night) by ox cart to the center.  Then we had to hire a table plainer to plain all the wood down so it was not so rough.  It took months of preparation just to get the wood ready.
When the team arrived they went to work building the massive fortress style playground.  Have a look:
The thing that impacted me the most was not just seeing all the kids play, but the guys that came to build it.  Each of them paid their own way to come.  They took time off of work which meant they are not making any money while they were in Cambodia.  Every man who came was a successful businessman or professional.  They all worked, sweat and bled all week long to make these poor kids in Cambodia the coolest playground in the whole northern region of Cambodia!  Let me tell you something:  In Asia you will never see that! You will never see businessmen and professionals sweat or work with their hands; especially when there is no financial benefit for themselves. This includes Christian's or otherwise.  It is beneath them. To me, the greatest investment they made into the lives of these kids was not a playground (which is strong enough to last 100 years!).  No; the greatest investment was demonstrating what a servant of God is to future leaders, businessmen and professionals in Cambodia. Those little kids.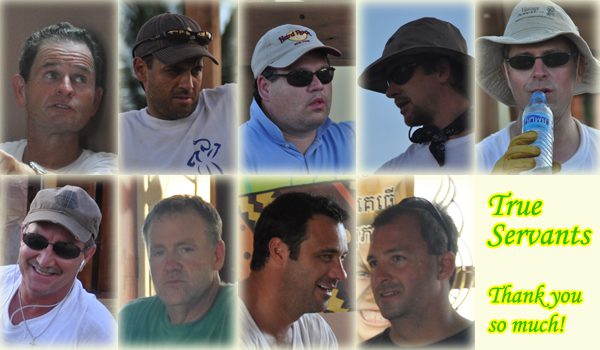 Thank you so much Bellevue Baptist Church and all the guys from Memphis.  Come back anytime! To work, or just to play with the kids!