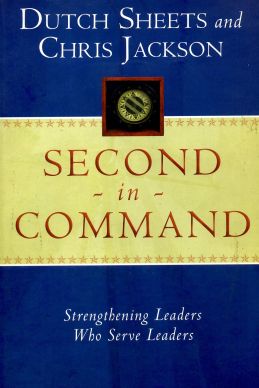 "Second in Command" by Dutch Sheets and Chris Jackson.  Destiny Image Publishers: Shippensburg, PA.  2005.  ISBN: 0-7684-2293-0
Review by Steve Hyde
I was interested in this topic of being a good second leader because I think it is important for all Christian leaders to how to be good "servants" of senior leaders, as even senior leaders are under other leaders as well.  Dutch Sheets is a well-known Christian author and Chris Jackson is his "second in command".  As a senior leader I know the importance of having good leaders around me.  The best chapter in the book is number two.   In that chapter he gives a "job description" for a second in command.  It was very helpful, so I'll list it here:
Second-in-command leaders must be men of courage and faith.  (Women too!)
They must be self-starting men of initiative.
They must earn the trust and carry the heart of their senior leader.
They must earn the trust and carry the hearts of those whom they lead.
Sometimes they need to speak the truth in love to their leader.
They must be excellent communicators, communicating their own personal struggles as well as all pertinent details of the organization.
They must be healed of their wounds.  Right-hand men are targets of the enemy and unhealed wounds are open doors for the spirit of betrayal.
They must be aware of the strategic moments when the senior leader's presence is required.
Sometimes their own needs must defer to the needs of the people.
They are crucial for the success of the kingdom.
To me, that was the best segment of the book.  Basically, the book is an Executive Pastor (staff manager) recounting what he has learned being a "second-in-command" for a senior leader.   While it is good for those to glean leadership and management principles from, mainly, it will be a help for Executive Pastors.  .  . so the audience is a bit limited.  It will probably sell more books than its target audience however, since Dutch Sheets (a well known pastor and writer) is co-authoring the book.  Basically, he gives a list of 12 points at the end of the book from a Senior Pastor perspective on how to have a good Executive Pastor.
It was a good book and a quick read for me.  I would recommend it to any church leaders (senior pastor, executive pastor all the way to the worship leader!)  Those in non-church leadership may find helpful points, but probably not worth the read because it is from a perspective of being "second-in-command" to a Senior Pastor.  Beyond that, it may not have much impact.
If you are a "second-in-command" struggling to find your way, you would probably give this book 4 stars.  However, if you are like me and not in a leadership crisis, I would just give it 3 stars.  It's ok.