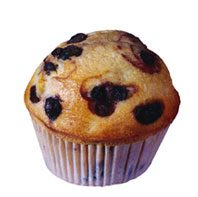 This week I have been visiting in Tennessee speaking at some meetings and visiting with friends.  I have been staying at hotels as well as private homes.  This morning I was on my own for breakfast so I thought I would enjoy a box of Blueberry muffins (don't worry, it was a small box!)  I hadn't had blueberry muffins for a long time, so I was really looking forward to it.
As I bit in to the moist muffins I thought to myself, "they really have a great combination of chemicals in these blueberry muffins".  Then it hit me.  What is wrong with me! I accept eating chemicals for breakfast as "blueberry muffins".  Now, I am no cook, but I would think a blueberry muffin would include: eggs, flour, blueberries, butter, baking soda. . . maybe a tad of oil, salt and some sugar? That sounds like ingredients I would expect to find in blueberry muffins.
After devouring the small muffins I looked at the ingredients. (That was a big mistake!)  They include some things I have no idea what they are:  Niacin, reduced iron, thiamin mononitrate, riboflavin, folic acid, high fructose corn syrup, modified corn starch, emulsifiers (sorbitan monostearate, propylene glycol monostearate, soy lecithin, sodium stearoyl lactylate, polysorbate 60, mono and diglycerides), artificial flavors, sorbic acid, xanthan and guar gums.
I don't know about you, but the ingredients just want to make me vomit.  I honestly don't know what they are, but anytime you have to use a chemical name to describe what it is, it is a chemical!
Oh yeah, it also included some of the following: Blueberries, sugar, soybean oil, nonfat dry milk, egg whites, baking soda, salt.  These are what you would expect in a blueberry muffin.
Of course I added butter to it.  When cleaning my plate with water it looked more like a chemical spill than butter.  So I had to look at my "butter" too.  Oh my, get ready for this. . . It contains:  pasteurized sweet cream, canola oil, salt, vitamin A, palmitate, beta carotene.  Hmm. . . it has a picture of a cow on the butter container, maybe they should put a picture of a chemical lab instead.
I like the final note on the blueberry muffins box: "Contains wheat, eggs, milk and soy, tree nuts MAY also be present in the product." That's funny, what you would expect to be in a "blueberry muffin" MAY be included too!  They are very certain that propylene glycol monostearate is there though!
After my breakfast I suddenly don't feel very well.  I wouldn't recommend eating blueberry muffins unless you pick them off the tree yourself and bake them from flour yourself.  I am not sure that in 2011 we are smarter than 1950 or not.  I can't wait to brush my teeth and remove the chemical residue out of my mouth!