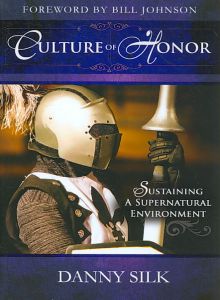 "Culture of Honor" by Danny Silk. Destiny Image Publishers, inc., Shippensburg, PA,  215 pages.
Review by Steve Hyde
"Culture of Honor" is subtitled, "Sustaining a Supernatural Environment", everything is great about this book, except the title!  It has a picture of a knight on the cover, it speaks of "honor", but if you think this book is about respecting and honoring others, chivalry or protecting the dignity of the church you'd be wrong, just like me.  In fact, "culture of honor" is a kind of buzz word at Bethel Church in Redding, California.  Listening to their podcasts, they talk about it quite often.  However, reading the book, I think the best title would have been the subtitle, only that wouldn't sell books.  So it is called "Culture of Honor".  After reading the book twice (it is a good book), I still can't see how they came up with the title.
Now, for the book:
Danny Silk is one of the main pastors at Bethel's church.  From the very beginning the book tells stories and they way that church staff dealt with the stories as being different.  I grew up in churches which had very clear and sharp judgments for sin.   Some sins get a swift kick, other a permanent kick, others are considered "normal" or "small sins", and they just get overlooked because everyone is doing them.  The response of the Bethel's leaders to "sin" is interesting.  They seek to restore people to their relationship to Christ.  Not punish.  It sounds simple, but really this book is about "grace".  It could have been called "culture of grace" and been much clearer.
The problem with "grace" is that it is a loaded word.  When I think of "grace", I don't think about forgiveness, hope, honor, or restoration.  I think about my own experience with "grace".  Nearly every church I have attended that is named grace is well known for legalism, pride and intense individualism.  Try wearing blue jeans, much less shorts and a t-shirt, to a church named "grace" and see how quick you get condemning stares.  Mind you, this is my own experience with the word "grace" which colors how I view biblical grace.  Biblical grace is nothing like our man-made understandings of grace which is colored by our experience.
This issue of grace is one of the key focuses of the book.  The leaders of Bethel church believe they are stewards of Heaven by operating in grace and leading a congregation in true grace, rather than judgment.  While there are many themes in this book, this is the key one which stands out to me.  The end result of practicing grace is not a weak and sinful church, but one in which the Holy Spirit is free to operate in everyone's lives.  Silk says, "When Heaven stops manifesting itself in the Church, Christians have to prove somehow that they are reasonable for following Jesus.  When the power of the Gospel [miracles, signs and wonders, transformed lives, grace] is replaced by arguments [doctrines, legalism], everyone should be concerned." [emphasis added]
The overall summary of this book "Culture of Honor" can be summed up by Silk's own words:
"When fivefold leaders [Ephesians 4:11-12] model this kind of honor amongst themselves, then 'equipping the saints' becomes a matter of extending honor by releasing every individual believer into his or her unique identity and destiny.  Each believer comes to understand his or her significance in relationship to the whole Body, and the conviction begins to take hold: 'I carry something that no one else carries.  I must develop and release my gifts into the Church and the world and do my part in bringing Heaven to earth.' Honor empowers people."
I think a significant problem that many pastors have is how to "motivate" their people.  Nearly every pastor would believe that all Christians are called to service/ministry, but few are successful.  To be successful it requires true Biblical grace in releasing and empowering others.  This is the "culture of honor" that Silk is speaking of.
This is a really good book for leaders; all leaders. It helps us to see how we can adjust our mindset so that we can equip and release people instead of being their judge.  We don't need any judges of people; Jesus will take care of that along with the Holy Spirit pricking their consciences.  We do need people who are willing to operate in forgiveness, building up of the body, empowering, releasing, hope and blessing.
Do I think a Lutheran, Methodist, Baptist or not "Bethel-ite" leader should read this book?  Absolutely. I don't think anyone should read this book and then use it as a way to criticize their leaders.  But any leader can learn a lot from what God is doing and be a better leader, minister and equipper at the same time.