Anyone who knows me knows I love to scuba dive.   Diving 100 feet down into the ocean eliminates all the worries and stresses of my life on the surface.  The ocean depths are so unique I cannot help but to worship our Creator God for his marvels.  Today I had the privilege of diving in Pemba, Mozambique.  Of my diving experience in four countries I can say that this was an easy one of the best dives I had been on.
While visiting Iris Ministries we had a slow day which didn't have so many activities in it, so I got a chance for a dive.  My dive partner was a South African Dive Master who had lived in the area for nearly twenty years.  He told me that Humpback Whales were on a migration and entered the area only two days previously.  If we were lucky we might see them or even hear them sing.
When I dropped into the water we still could not see the bottom, we had to dive about forty feet down before the sea floor came into view.  This is where you just trust the experience of your Dive Master.  Upon reaching the bottom we were on the edge of a cliff.  This was the continental shelf of Africa.  The cliff dropped over 200 feet straight down.  It is on cliff walls that dives are so fun because you really feel as if you are flying!  These cliff walls also have a huge abundance of marine life.
Today I saw amazing things.  Huge tuna circled us as we dove.  Schools of large Jacks and even Snapper swarmed everywhere.  Though things in the water are magnified 20%, these were the biggest fish I had ever seen in the ocean by far and each large fish of nearly three feet long were in a school of hundreds.  It was breathtaking.
Along the way I saw two huge lobsters hiding under a rock.  They were as big as my arm. Oh how I wanted to catch them!  Among all the exotic fish I saw many common ones like Clown Fish who are always up for a challenge.  They aggressively approach divers.  While diving in the Philippines, because of over fishing, a clown fish may only be as big as my thumb, but these clown fish were as big as my hand.
The most bizarre fish I had ever seen, I almost missed.  On the sea bed was a mixture of corals and plants with fish swarming all around.  In one area the green plants, almost like cabbage, was spread out over a large area. Each leaf was green, yet splotched with brown and black veins.  The diver pointed a clump of leaves.  I didn't see anything unique, just a very uniform spread of leaves on the sea bed.  Then he touched one clump of leaves and it jumped a bit.  It was alive! This fish, called the Paper Leaf Fish, was so identical to an actual leaf that he didn't even bother to swim away from us when we poked him.  It was rare that anyone identified him as a fish!  The only thing on his body which could differentiate him between a fish and leaf was a small eye which was like a reflective mirror.  God is so creative to make a leaf and a fish to look nearly identical and live together.  Yet they are totally different.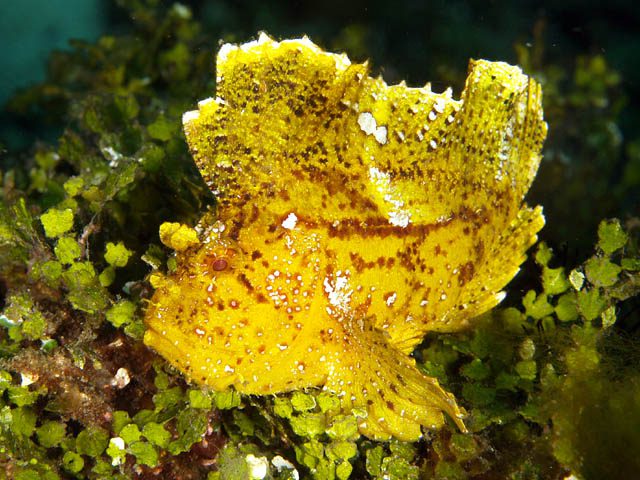 Scuba diving is actually a fairly noisy activity.  Every breath you make sends thousands of bubbles exploding to the surface.  Wanting to conserve air, but also listen for whales, I often held my breath.  When I held my breath I could hear the Humpback Whales singing.  The sounds were high pitched and long.  I had to really listen hard to make out the sounds as clearly they were quite far away.  Even though I wished that I would have seen a huge humpback whale emerge out of the dark blue depths, I enjoyed worshipping my Savior and singing with whales in Mozambique.