Let me share a brief confession.  I graduated from a Christian university with a Bachelor's degree in business and computer science.  I was also a devout Christian and entered seminary to do a master's degree.  I was convinced at the time that it was only a matter of time before the Christian religion could be completely "digitized" and automated.  I felt every sermon, theological doctrine, and program of the church could be put in a digital format and the regeneration of the Christian religion would just become automatic. Today, all these possibilities are in place.  Podcasts eliminate the need to physically go to church every Sunday just to listen to sermons. Online Bibles and media solutions bring scripture and personal worship to your finger tips.  Webcasts allow a crowd experience in the privacy of your home.  Then I had a crisis of belief.  If my religion could be so efficient that it could be programmed, then it wasn't a religion worthy of following.  I became bored with my faith. I then sought to see the experience of the scripture in my own life.  If my God was truly alive then I wanted to live in the supernatural today.
Twenty years later I have come to discover a supernatural Christianity.  In my daily ministry with churches and their leaders I have been convinced not only of the authority of the Bible, but also have observed how much leaders depend on their own cognitive abilities to lead, solve problems, and make key decisions in their life while, in effect, showing disobedience to the scriptures themselves. We know for certain that Jesus gave believers his Holy Spirit in order to be our teacher and counselor (Acts 2:38, Hebrews 6:4).  This is our "divine trump card".  God is living in us and is always ready to help us.  Yet, in most leadership meetings I am a part of the outcomes are dependent on human thinking.  Why?  Jesus has given us His Spirit to speak to us about any issue he chooses.  The church is to be a spiritual entity, birthed and led by Him, yet does the reality of our Christian life and churches reflect this spiritual culture?  With this burden I asked some leaders to help me change the church culture around me.  So, three years ago we started to help leaders step into a spiritual lifestyle so that depending on the supernatural leadership of the Holy Spirit would become more natural than just thinking themselves out of problems.  Our "trainings" are full of practical application.  Two key leaders have helped us step into this supernatural lifestyle: Neil Dowling and Peter McHugh who are both from Australia and both have spent more than a decade helping the church in Cambodia.
The following are a couple of testimonies which were highlighted from the week of training. These testimonies are mostly related to what the Bible refers to as 'words of knowledge' (1 Corinthians 12:8) and prophecy:
Feeling Someone Else's Pain: Serey fell out of a tree before the seminar and got back pain and even could not turn left or right, however had a very big surprise at the seminar.  One lady complained of having back pain for no reason, just sitting in the chair.  Neil who had experience explained that for the lady who had the pain for no reason that God could be showing her that someone has that pain and God wants to use her to heal that pain.  The lady then asked if anyone had a specific back pain and Serey revealed her pain.  The lady then prayed for Serey and immediately she was healed.  She was so shocked that it was an instant healing she was overcome with joy and amazement.
Double back healings: The same lady who got the word of knowledge through the physical sense of pain in her back also prayed for another man named Tun Hourt who also had back pain.  In 1977, during the Khmer Rouge era, he was transporting rice and the oxcart he was on slipped on the road and overturned. He was entangled in ropes and a wood pole impaled him leaving a large hole and scar in his back, plus permanent pain. After prayer he revealed that for the first time since 1977 he felt no pain and that somehow the hole in his back had disappeared!
Unexplainable supernatural: Just to prove the Holy Spirit is spiritual and not bound by operating in our rational, cognitive and limited mental abilities something special happened too.  During one of the session something odd appeared during the worship.  Someone spotted a glistening object on the floor.  It was odd-looking.  When someone picked it up, it appeared to be a gem about a carat in size.  Rationalism says someone dropped a gem, however, the entire group was poor rural leaders whose average income was less than $2.00 a day who would never had money to own a large gem.  So it is unlikely someone misplaced their gem and then wouldn't claim it.  However, Cambodia is a land which has lots of gems and I have viewed hundreds of different kinds, but nothing like this.  It was almost a combination of diamond and golden.  Looking from the bottom it appeared gold.  Looking from the top it has brilliant colors.  This has never happened before in any of my hundreds and hundreds of trainings and I don't know why it did happen.  Could it be a misplaced gem? sure.  Could it be a plant by our teachers? I guess.  Could it be some kind of gift from God demonstrating that he is indeed supernatural and sovereign? Absolutely.  Do I need to understand it? Nope.
Here is what it looked like when I took a picture of it with my camera-phone: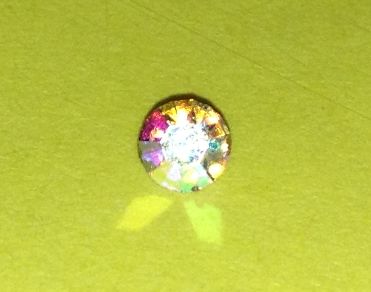 Normally, you would think that a Baptist raised-evangelical leaning-conservative-solid proponent of scriptural authority-yet a simple follower of Jesus would not write about such "radical" topics dealing with the supernatural aspects of our faith.  However, I feel those who love scripture, like myself, need to be reminded that Jesus is not based on the Greek textual study, but is alive today.  He is God.  He is at the core of His Being supernatural.  So, why do we try to pretend we follow a rational God? Personally, I am thrilled that my God can reveal himself beyond the limitations of science.  Today I am not bored in my Christian life.  I am glad I follow a God who is so much greater than what I can rationalize away. Many qualities of my God are certainly "unexplainable" and "supernatural".  For this I have faith in a living God.